Kreativ- und Artdirektion für die erste digitale Semesterausstellung der Fakultät Gestaltung Würzburg. Entstanden ist eine Plattform für studentische Arbeiten und gemeinsamen Austausch. Das Konzept "42 tabs open" spielt mit dem zuvorgegangenen digitalen Semester und der Visualität der Browser-Tabs- und Fenster.
Creative and art direction for the first digital semester exhibition of the Faculty of Design Würzburg. The result is a platform for student work and mutual exchange. The concept "42 tabs open" plays with the preceding digital semester and the visuality of browser tabs and windows.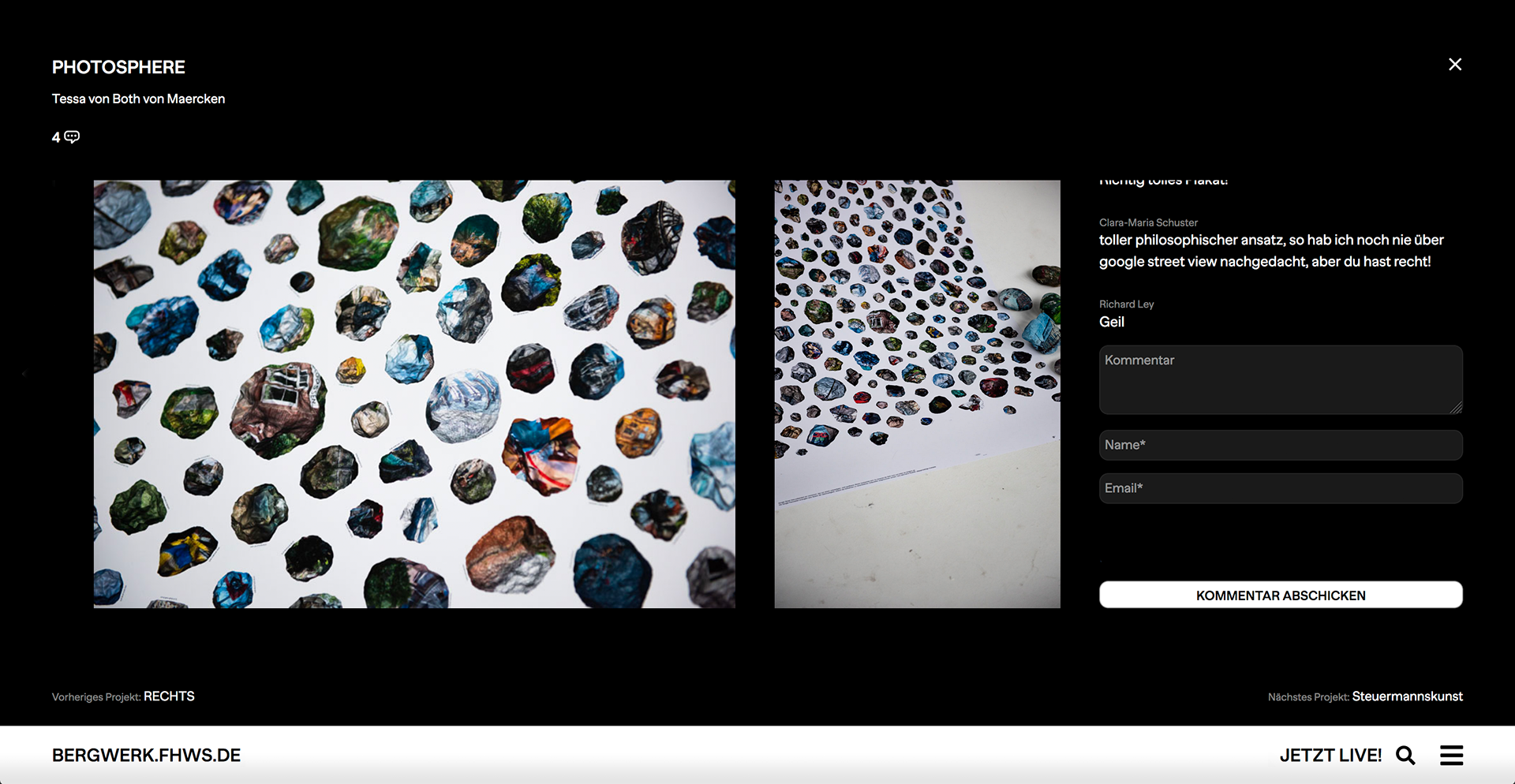 Ausstellungsgrafik für die St.-Thomas-Kirche in Kreuzberg, entstanden bei TheGreenEyl Berlin 2019.
Der 20 Meter lange Zeitstrahl erzählt Geschichte der Gemeinde Sankt-Thomas und die eng damit verbundenen politischen und städtebaulichen Ereignisse in Kreuzberg auf verschiedenen visuellen Ebenen.
Exhibition graphic for St. Thomas Church in Kreuzberg, created at TheGreenEyl Berlin in 2019.

The 20-meter-long timeline tells the story of the parish of St. Thomas and the closely related political and urban planning events in Kreuzberg on different visual levels.
Interaktive Installation, 2019
Eine Kamera, die keine Bilder produziert, als Gegenentwurf zur Bilderflut des 21. Jahrhunderts. Die camera musica fängt nicht wie die gewöhnliche Kamera einen Moment ein und manifestiert ihn. Beim Drücken des Auslösers übersetzt sie ihn in Musik.
Interactive sculpture, 2019
A camera that produces no pictures as a counter-draft to the flood of
images of the 21st century. The camera musica does not capture and
manifest a moment, as the ordinary camera does. On pressing the shutter,
it translates it into music.

For a full portfolio or questions about my work just shoot me an e-mail!